Conveyor Mechanism for Smooth Movement on Curved Sections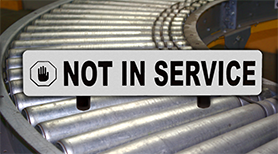 The invention provides a way of countering the issues experienced by some conveyor systems while entering or exiting a curved track section. These issues are known as the chord effect, and they manifest through uneven motion, knocking and rattling.
They are encountered more commonly in particular types of mechanisms, such as garage gates and luggage conveyor belts from airports. Current solutions may help counter the overall chord effect, but they often require elaborate design of the curved tracks.
Furthermore, such designs do not cancel the velocity variations experienced by each carriage individually, which ultimately manifests itself as waves travelling across the conveyor mechanism.
The proposed solution, which consists of a carriage chassis and a 4-bar linkage, comes as a more convenient and precise alternative. Initial investigations, conducted for a range of constant-curvature tracks and carriage lengths indicate a substantial reduction of the chord effect.
APPLICATIONS
Production lines
Transportation belts (e.g. airport baggage carousel)
Roller doors (e.g. garage door)
Haven't found what you are looking for?
Send us a message via the contact page and let us know what your technology need is.
As soon as something related becomes available we'll notify you.
DOWNLOAD THE TRIAL LICENSE AGREEMENT HERE
Kontakt AAU Forskningsinnovation
Har du spørgsmål er du velkommen til at kontakte:
AAU Forskningsinnovation
Tlf.: 9940 9336
E-mail: patent@adm.aau.dk
Du er velkommen til at følge med på vores SoMe: